Now, I understand when coming to the Lake District you can be bombarded with endless choices of accommodation, which is great! However, we feel that certain business deserve to be recognized for the hard work in which they have done to make your stay here in the Lakes as sustainable as possible! These residential businesses which I'm going to be writing about today are located in the heart of the Lake District: an area of outstanding natural beauty and importance. While, as businesses, I'm sure they feel privileged to operate in such a stunning area, they are also only too aware of the impact businesses make on the environment. These residential businesses have made a conscious decision to operate responsibly and take the best care of the incredible surroundings. Whether it be from recycling to solar power, composting waste food to only using local business for maintenance and food. These businesses have gone above and beyond the requirements needed to meet your Eco friendly needs!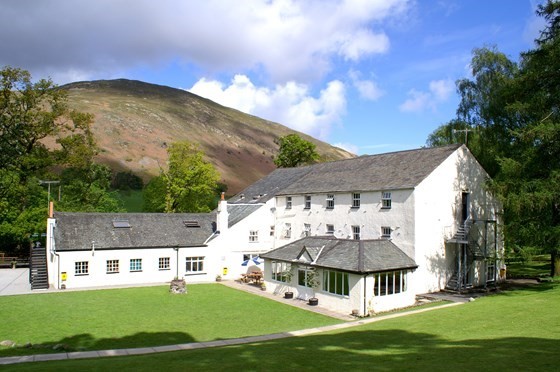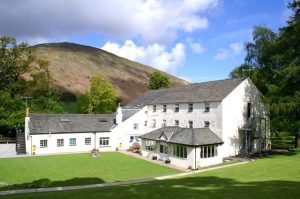 Based in the heart of the Newlands Valley, Newlands Adventure Centre is a multi award winning sustainable business & residential centre which has been operating since 1905.  With prices starting at the very reasonable price of just £30 B&B per person and perfectly located at the feet of some incredibly famous walks like Catbells and Causey Pike, as well as being only a 10 – 15 minute walk from some of the best locally run pubs in the area, Newlands already screams out to be the perfect location, but things only get better! Since 2010, Newlands has been vastly improving their sustainability from small changes like adopting a recycling programme which reduced their landfill waste by half to much bigger changes like replacing their old boiler system with new energy efficient ones which has saved them thousands of pounds! Alongside all this Newlands has insulated the whole building to be more energy efficient and also created bird hides with feeders, bat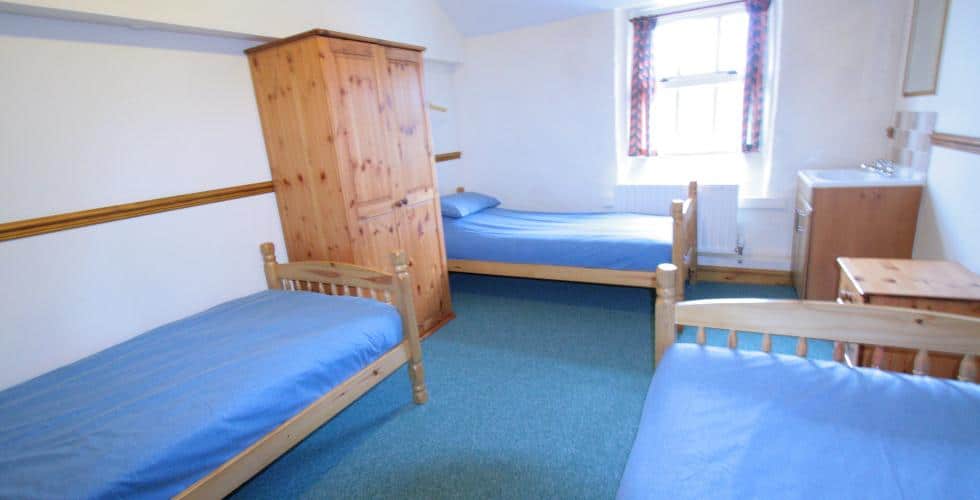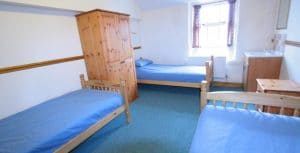 boxes, red squirrel feeders, nesting boxes, and bug hotels to attracted to local wildlife to the area. This is something which makes Newlands stand out from the rest of the crowd, it is all very well and good saying your Eco Friendly because you have Solar Panels (which is great!), but it's all the smaller Eco tasks which Newlands undertake which when added up, is a huge benefit to the environment. Small tasks from sending old mattress to animal rescue centers to be used as beds to working along side "Fix the Fells" to rebuild paths on the side of the UK's most stunning mountain ranges. As well as all this, Newlands takes pride in only using local business when it comes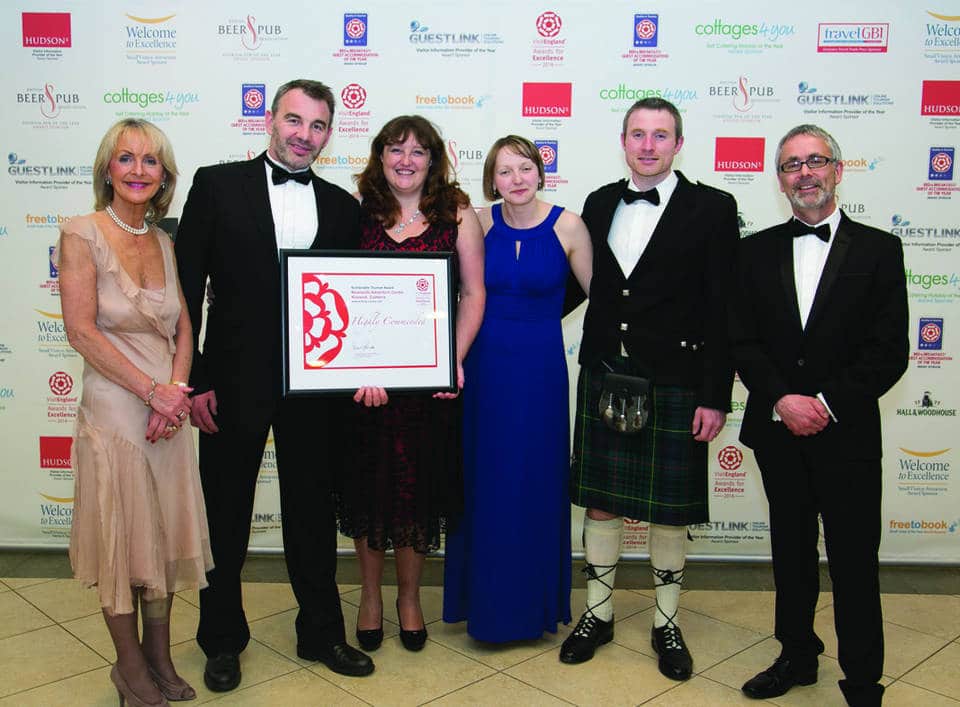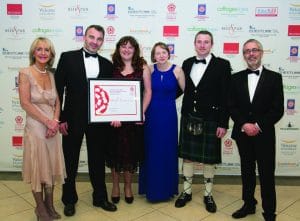 to sourcing its food and also composts any waste food as well as recycling old cooking oil. I have truly only scratch the surface on Newlands Adventure Centre Eco policy and if you do not believe me click here to view their 5 page spread covering all their Sustainable Policies! On top of this, the Adventure Centre still have huge plans for the future, with the hopes of one day using Hydro Power to help run their centre as well as consistently adding new Eco policies to there future plans. It is easy to see why they have won over 10 National and Regional Sustainable Business awards. To finish, I simple cannot recommend Newlands Adventure Centre enough, from its reasonable price to its above and beyond approach to being as Eco Friendly as possible! To find more information about this awesome residential centre please click here!
If you want to talk about sustainable places to stay in the Lake District then "The Quiet Site" based in Ullswater has to be somewhere you must check out! With countless amount of awards and consistently being rated one of the top places to stay in the UK, it is no wonder they are so popular! But why? Well, what I love about this place is the amount of effort they have put in to be one of the most sustainable home grown businesses in the UK! Firstly, on site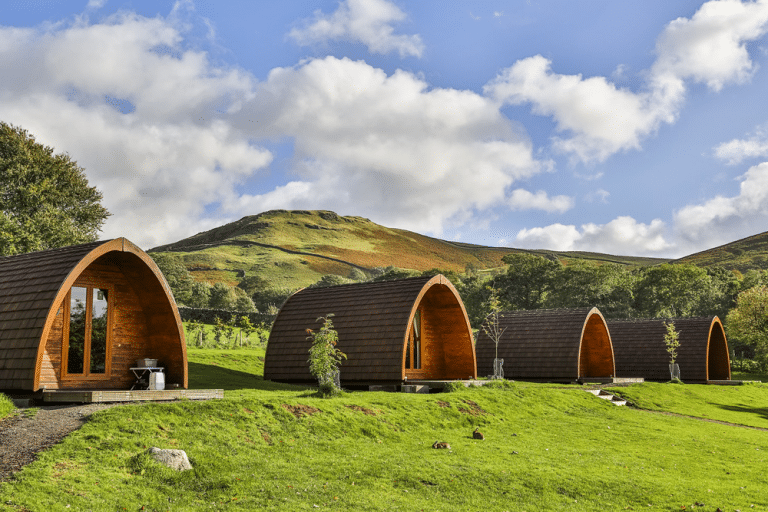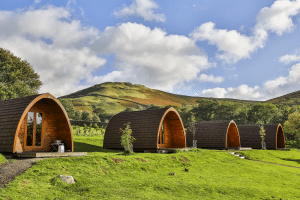 they have Britain's first Zero Waste Shop. They sell lots of essential items which you will need for your stay as well as some more unique items, but, what is awesome is that the items are locally sourced and with no plastic packaging! The shop have thought of every Eco detail from Milk and Orange juice being sold in reusable glass to their lovely range of cheeses come in their own wax skins. They also have a growing range of soaps, shampoo bars, bamboo toothbrushes etc. What a fantastic idea! But there is so much more, The Quiet Site are also offering a very unique style of accommodation, Hobbit Holes! These are large underground living spaces with an amazing views over the Ullswater valley. Firstly, being underground they are superbly insulated making them extremely energy efficient, being virtually invisible they do not leave a mark on the incredible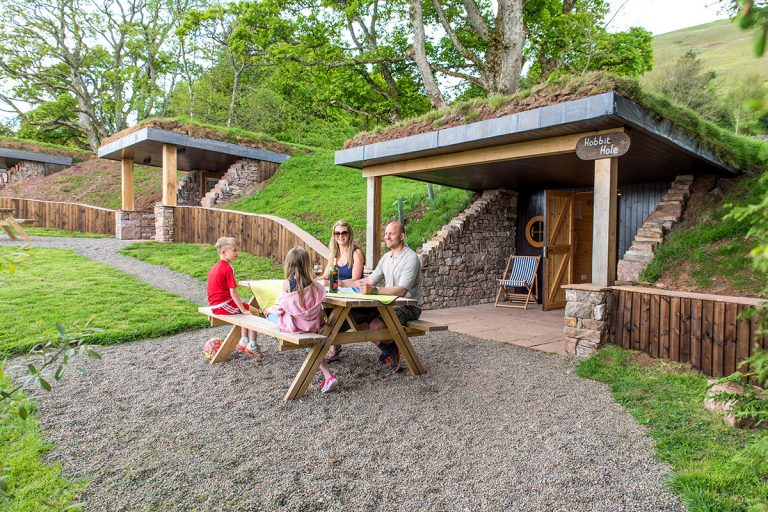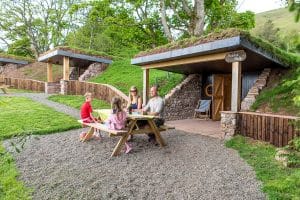 surroundings. The Quiet Site also pride itself by only using local sourced business for a majority of its needs whether it be maintenance or food and drink in their onsite bar. We have merely scratch the surface of the amount of work this incredible site has done to improve its Eco footprint , it the last year alone they have installed a new electric powered site utility vehicle, which is charged from their very own solar PV panels, not forgetting to mention the fact that they use the sun to pre-heat all their water before it is enters the biomass boiler. It is easy to see why this business has won more Sustainability Awards than anyone else here in Cumbria! The Quiet Site have so many different options of accommodation for you to choose from so, If you wish to check more out about this place please click here!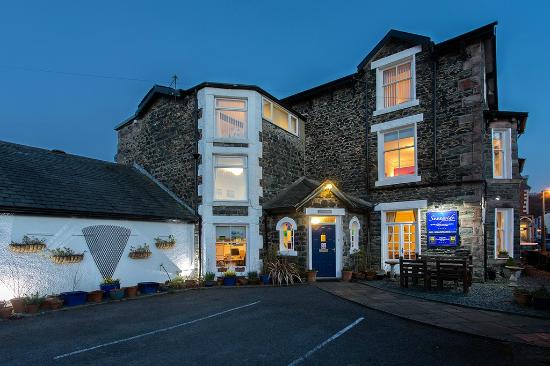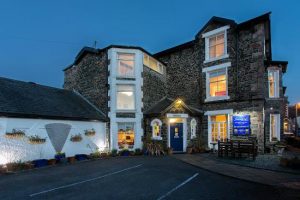 Based in the heart of Keswick, Sunnyside Guest House is a locally run Green Tourism Silver Winner and consistently maintains its high standards of Eco ethos. The Guest House was built in 1886, meaning that they have had to vastly change how the building operates to keep it as Eco as possible. Firstly, The building has had much better insulation installed in the loft spaces making the building a lot more energy efficient. Most windows have been replaced with energy efficient glass meaning none of that heat will be escaping! One major thing to note about all this work is Sunnyside's use of local business to do all the renovations needed to make them a Green Tourism Silver award winner! Being local as possible is something which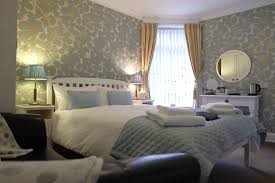 this Guest House thrives off, whilst looking at there website you can see how much pride they take in the area but also, how much they want to boost the local economy! A majority of their items from food to bathroom accessories are locally sourced  and also delivered cutting down their own greenhouse gases emissions. The Guest House also try to buy Fairtrade when possible and also have a onsite Car Park for guest only, this is great! Why? Because firstly, parking in Keswick can be the worst part of your trip, it is truly awful with very little options for long term parking, but also, it means you can leave the car behind and use other more eco friendly modes of transport to explore across the Lake District! Click here to read my last blog all about this! Overall, it is very obvious to see why Sunnyside Guest House is Keswick most popular Guest Houses. With excellent locally sourced Breakfast's to it's prime location and not forgetting to mention their reasonable rates, I simple cannot recommend them enough! To find out more information on this Guest House, please click here!
How to have a Sustainable Weekend in the Lake District
Travel Edition 
Everyday, we are reminded about the state of our beautiful Planet. Whether it be the Ice Caps melting in the North and South Pole, Bush and Forest Fires burning across Australia and USA to even whole towns been flooded and homes destroyed in the Lake District. The only way we can help prevent these terrible events from happening is by all of us doing our bit to save this incredible Planet. What I want to achieve in this first part of a four part series of blog posts is to open your eyes to just how easy it is to be Eco friendly when it comes to transportation whilst your visiting Keswick and the surrounding area. I want to show you that even though you are on holiday, you can still pursue the same Eco values you have at home. 
With 19 million visitors every year, the carbon footprint of the visitors travelling to the Lake District is staggering. The majority of tourists reach the area by car, a mode of transport which is damaging the planet in a variety of ways. However, this definitely isn't the only way to reach and travel around the Lake District.
Train: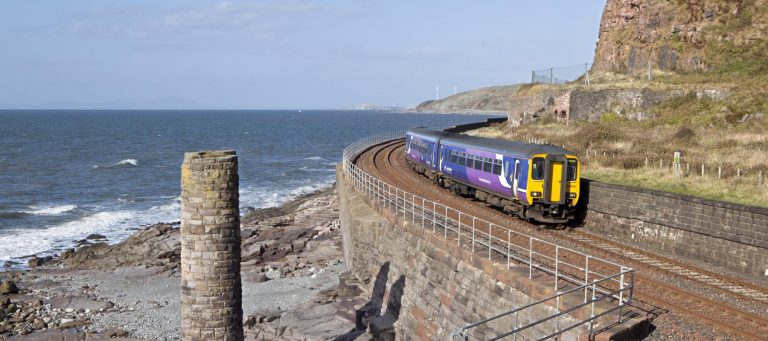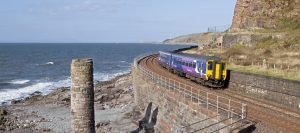 The Lake District plays host to 2 Train Stations, Oxenholme Lake District and Penrith North Lakes. There are over 50 trains a day calling into these 2 stations making very easy for you to get to the Lake District from all over the UK! Alongside this, trains run all across the South Lakes from Windermere to Kendal and also up the West Coast of Cumbria from Barrow to Carlisle showing of our more dramatic coastal views! Aside from walking or biking, taking the train is the most environmentally friendly way of traveling. In fact, compared to cars and airplanes, trains emit between 66 and 75 percent less carbon. Plus the train will take you through some of the beautiful South Lakes Countryside! If you want to arrive in the Lake District in Eco Style then Train Travel is the ECO-VIP way to travel! 
Electric Bikes: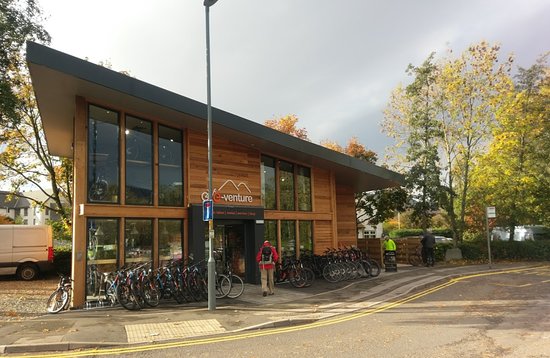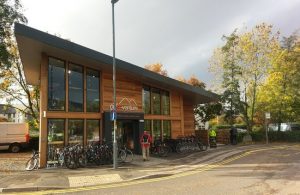 In our opinion the best company for Electric Bike hire is E-Venture Bikes. E-Venture Bikes are the Lake District's No.1 destination for E-Bike rental. If the idea of cycling up some of the Lake District steepest hills and passes to get the rewarding views is your idea of an awful day, or your idea of the perfect day is ditching the car and getting on two wheels to explore the local area then E-Venture Bikes has to be your first stop on your arrival! With an array of different Electric and Non Electric Bikes for you to choose from, E-Venture Bikes will have something for everyone! Perfectly located in the Centre of Keswick, next to Booths Supermarket. I have to say, the rise in Electric Bike use in the Lake District is staggering! This is great news! The less cars on the roads means less Greenhouse Gases being emitted out and destroying the beautiful and natural surroundings the Lake District offers! Please check out E-Venture Bikes: 
https://www.e-venturebikes.co.uk/
Local Buses: 


Yes, I know, they still realise Greenhouse Gases, however a majority of Buses across the Lake District can host a up to 40 -50 people on the bus at the same time meaning less cars on the road! Stagecoach operates an extensive network of bus routes throughout the area, going from Kendal to Carlisle, as well as going through some of the UK's most beautiful landscapes like the Borrowdale Valley or even Honister Pass! Its open top buses are especially popular with tourists (In the summer of course!) and day tickets start from as little as £8.50. All the bus timetables for Cumbria can be found here.
Boat: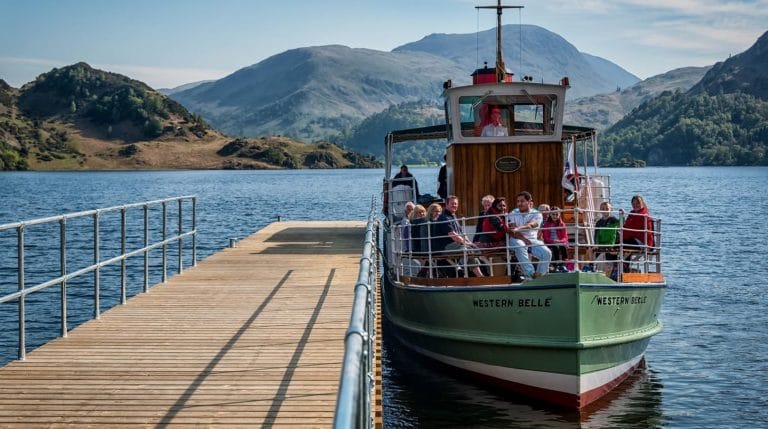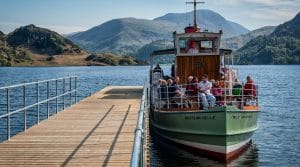 From Derwent Water to Ullswater, Coniston Water to  Windermere, all these vast bodies of water boast the use of transportation across them! Whether it be Launch or Steam Boat each Lake has it own originally way of sailing across them! Now, I know what your thinking, Steam Boats ain't exactly good for the environment, and you would be correct, however, sustainability is not all about greenhouse gas emissions! All of the traditional Steam Boat companies are locally ran companies! Meaning you are supporting the local economy, which is great for the area but also, Sustainable! Many of the Steam Boat companies, Like Ullswater Steamers for example, invest a lot of that money back into making everything else surrounding the business as ecological as possible! They are so Ecological that they have even won National Sustainability Awards for the Eco Friendliness! There is no better way to see are beautiful area than by Boat!