5 Best Coffee Shops in the Local Area
Whether you're planning a hike up Skiddaw or just a morning drive up towards Castlerigg Stone Circle, you need to start your day right, and there is no better way in doing so than with a great mug of coffee. Whether it be a latte or espresso, we here at Keswick Climbing Wall know that there is no better wakeup call than your morning coffee! It is a quick, clean and healthy way to wake yourself up and it is full of Antioxidants which will help release all that energy you need for your days adventure slowly throughout your day!  Also, Keswick is blessed to have a wide variety of locally run coffee shops and cafes across the area, so do yourself a favour and get that coffee local! Help support the local economy and also, there is nothing better than knowing your Barista by name and drinking ecofriendly locally produced coffee like several of the cafes around Keswick boast! If you really want to feel local then this is the correct way to start your day!  
Hungry Heifer Cafe – Keswick Climbing Wall
T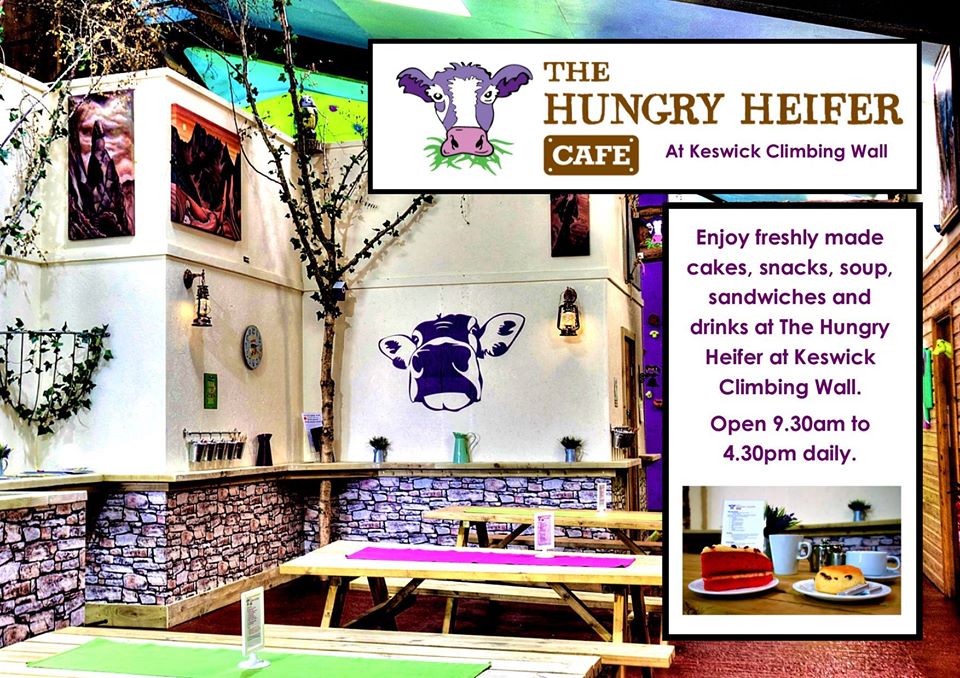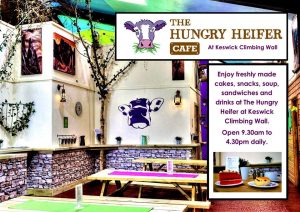 hat's right, we don't just do climbing here! Keswick Climbing Wall can boast its own cafe, "The Hungry Heifer". Catchy name right! This is because the building use to be part of a working Hill Farm but now has been transformed into an Indoor Climbing Wall! Come inside and check out the quirky decor as well as getting to watch the climbers scale some of our toughest walls, maybe even get inspired to try it yourself! Of course, you are going to want the know the insiders scoop on what to order from the cafe, our very own Chef Paul makes one of the best homemade tomato soups there is! This is a must! The soup goes perfectly with the wide selection of freshly made Paninis and Sandwiches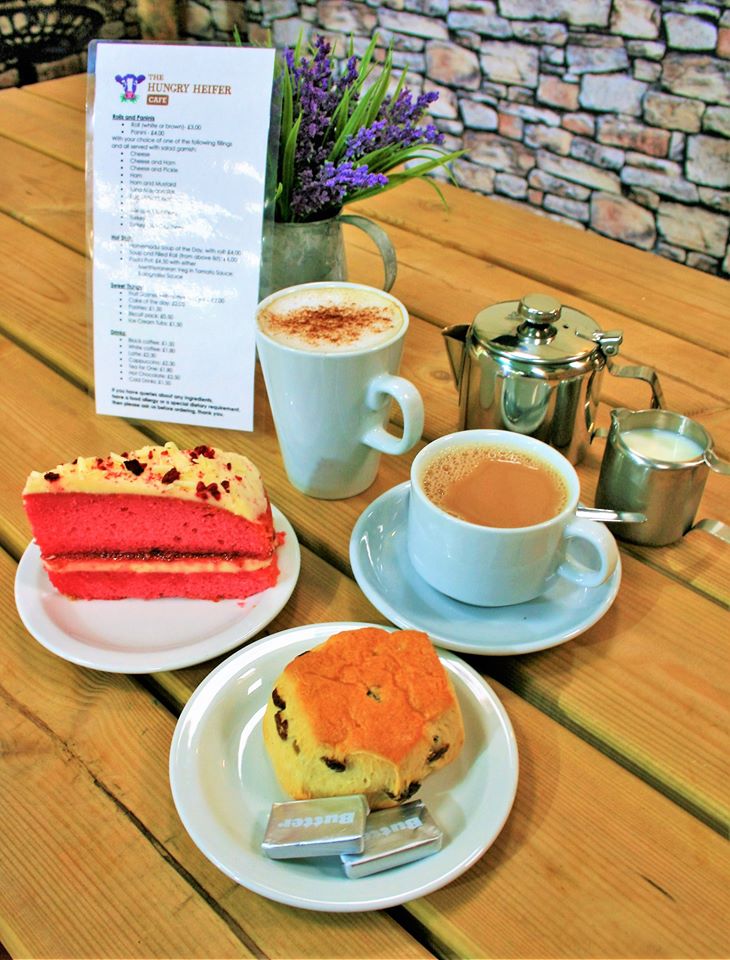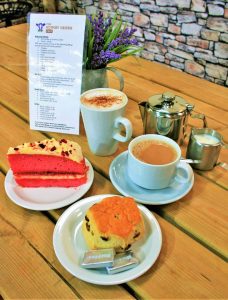 which we also offer!  If soup ain't your thing then our homemade Mac and Cheese is a cheese lover's heaven! All these meals are packed full of energy, meaning you will be able to face whatever challenge is facing you next! However, if you have more of a sweet tooth, our wide range of cakes goes perfectly with our delicious freshly made coffees and teas! Plus if the sun is shining over the Lake District, then the Hungry Heifer can boast one of the best outdoor cafe seating views in the whole of Cumbria! Not a bad place to sit down and enjoy an English Lakes Ice Cream or 2 which we also have a wide choice of! We are Dog friendly cafe and have started to sell "Doggie Ice – Cream" which our resident dog Jessie can confirm is delicious! The Hungry Heifer is a cafe which has something for everyone and is somewhere you won't forget! 
Java Coffee Shop – Keswick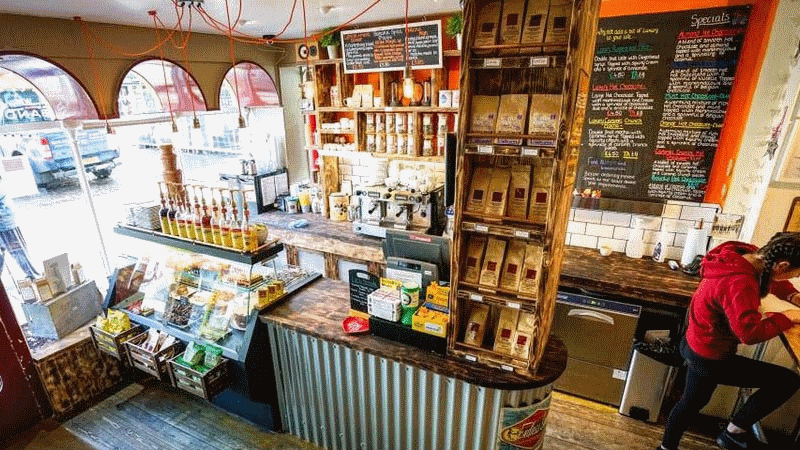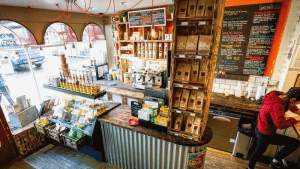 A personal favorite for several of our team, Java Coffee Shop is known for being one of the best and most popular Coffee Shops here in Keswick! Well known for its fantastic local sourced Coffee and extremely friendly staff, Java Coffee will have you smiling from your entry to exit! With its excellent comfy seating to it prime location on Keswick High Street, you will find it hard not to visit this Coffee Shop on your travels! One major eye catcher of the Cafe has to be the Chocolate Fountain they have running for you all the see! Java is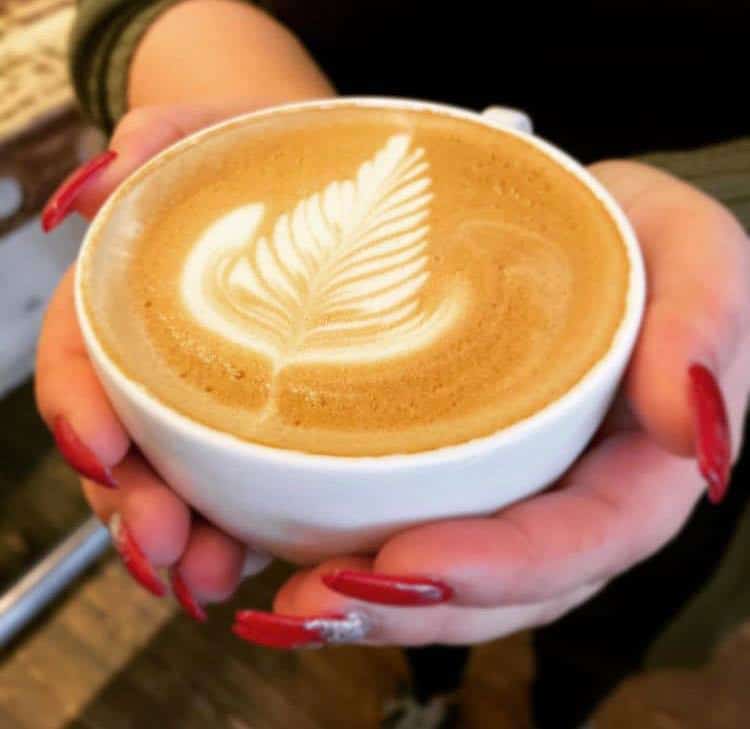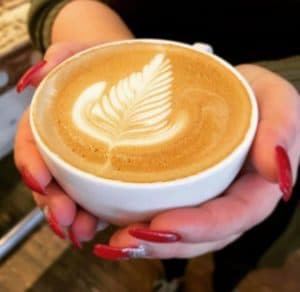 known for making the best Hot Chocolate is Keswick and take pride in making sure every Hot Chocolate or Drink they make is to the highest standard! A personal favorite of mine would have to be the Chili Hot Chocolate with Carrot Cake! If your ideal reward after a hard day on the fells in fruits and marshmallows covered in chocolate, then Java have your back as that is one of their specialties! From Cakes to Sandwiches, Coffee to Milkshakes, Glynn, Adele, Jaclyn and rest of the Java's team will give provided you with a warm welcome, cozy interior, great service and high quality food and drinks will keep you coming back for more!  Have a look for yourself, click the link below! 
https://www.facebook.com/Java.Keswick/
Hayloft Cafe – Castlerigg and St Johns in the Vale
O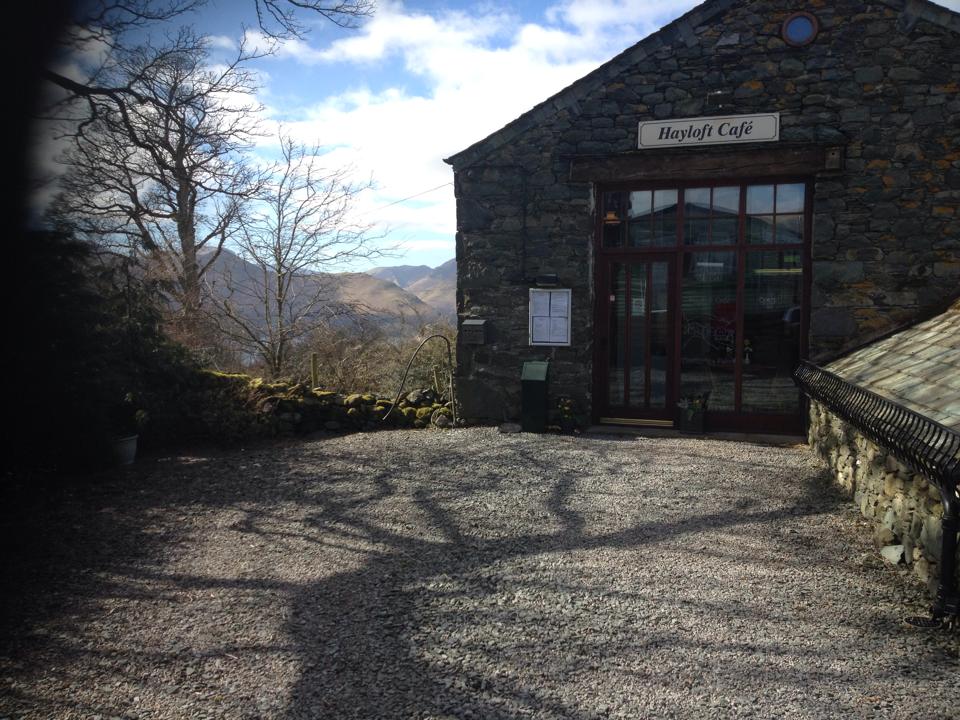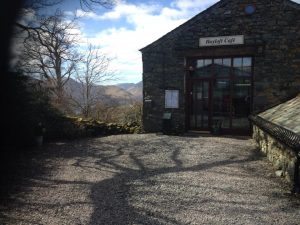 pened in 2015 the Hayloft Cafe is based on Castlerigg Farm Campsite and is a locally ran Cafe! The Hayloft prides itself in trying to be as local sourced as possible and being great value for money! From all of their Food being fresh and homemade to their Coffee being locally roasted. The coffee beans are roasted only 10 minutes away from the Cafe in Threlkeld by "Carvetti Coffee" our local roasters in the area! A locals favorite at the Hayloft is their famous "Fellwalker" breakfast! A classic spin on your Full English and the perfect way to start your day on the Cumbrian Mountains! However with a wide variety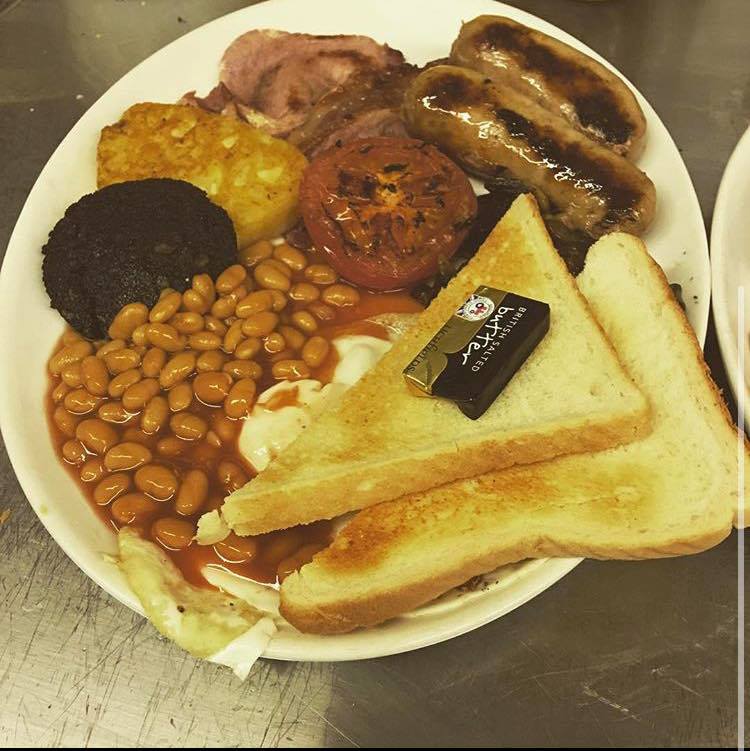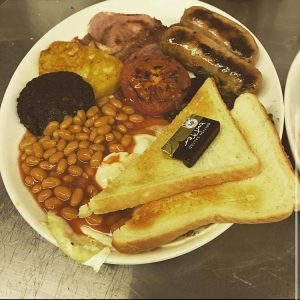 on the menu as well as catering for dietary requirements and having a separate Vegan menu, there is something for everyone at the Hayloft! The Cafe also have a alcohol license and with a gin bar of over 40 locally sourced and unique gins, as well as a range of local and icon craft ales, the Hayloft have something for everyone whether it be before or after your exhausting day exploring the Lake District! Service with a smile in essential in any cafe and the Hayloft prides itself in having some of the friendliest staff in the area! Feel free to ask them advice about the Lakes as all the staff usually live and have grown up in the Keswick and surrounding area! So what are you waiting for? Get yourself to The Hayloft Cafe as soon as possible! Check them out below! 
https://www.facebook.com/keswickhayloft/
Little Chamonix – Keswick 
T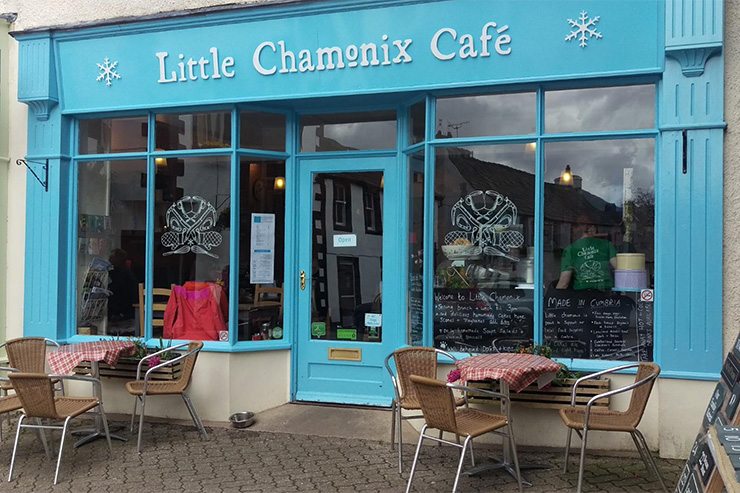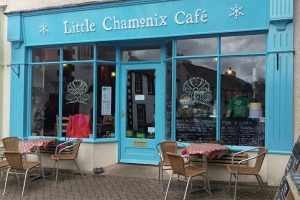 he warm welcome provided by Little Chamonix alone is enough to make it realise you picked the right cafe for your morning Coffee! The laid back and friendly atmosphere is perfect for that early morning vibe.  The cafe is a cozy chalet-inspired cafe and is perfect for morning wakeup call coffee with a freshly baked scone, leisurely afternoon lunch or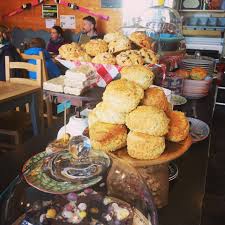 an end of the day, much-needed hot chocolate! The cafe pride themselves in home-baking, interesting, delicious food and skillfully made hot drinks. Personally, my favorite from the cafe is there tasty cappuccino with the famous homemade Victoria Sponge! It is incredible! Being perfectly located at the top of Lake Road in central Keswick, this is a cafe which really is a local's cafe and when you go will feel like a home away from home! Check them out below!
https://www.facebook.com/littlechamonixcafe/
The Chalet Tearooms – Portinscale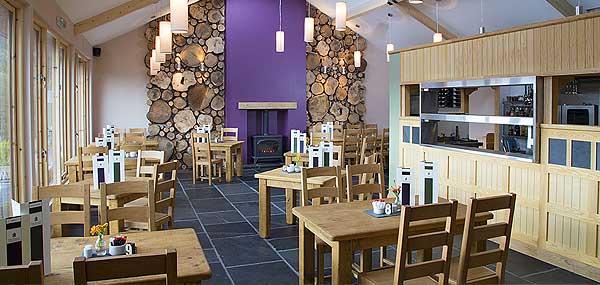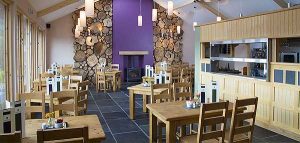 Chalet is situated in the Lakeside village of Portinscale nestled on the shores of Derwentwater. It is a local run cafe providing great Coffees, Breakfast and Lunch too ramblers and there dogs, cyclist stopping off for a well earned break or people who just want a tasty lunch, snack, pizza or a hotpot of mussels! There's something for everyone at the Chalet tearooms. The Cafe opens up for Breakfast and offers a wide range of food from your classic hearty cumbrian breakfast to pair with that freshly made coffee, to even a unique "Austrian" styled breakfast! With a variety of cakes as well to choose from as well as outdoor seating, this is the perfect place to stop before you tackle some of the Lake District most famous walks! Find out more by clicking the link below! 
http://thechaletportinscale.co.uk/
Top 3 Dog Friendly Pubs in Keswick
Here at Keswick Climbing Wall, we know that taking "Man's Best Friend" with you on your trip to the Keswick, the recently crowned number 1 Dog friendly town in the UK, is almost essential!
However, you want to be able to share every memory of your adventures with your four legged friends, including the ones at the end of the day sitting in the Pub having that well earned classic pub grub or drink! 
So, here is, in our opinion, Keswick and surrounding areas best Dog friendly pubs! 
White Horse – Scales 
The White Horse Inn is your classic British Country Pub with high quality pub food, roaring open fires, local ales and of course a warm cumbrian welcome. Located just outside the picturesque village of Threlkeld and a 5 min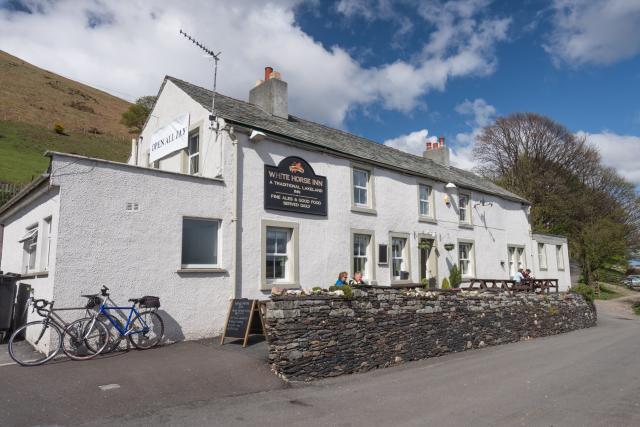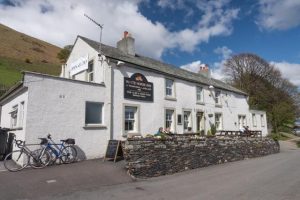 ute drive from Keswick Climbing Wall it really is incredibly located! Being at the foot of the Blencathra and Sharp Edge, it is the perfect stop for some Food or Drinks before or after your day exploring the mountains! On of the paths up or down Blencathra even finish in their beer garden, how convenient! You would be barking mad not to visit this pub!
To check out more about this Pub, check out their website:
http://www.thewhitehorse-blencathra.co.uk/
The George Hotel – Keswick
The George was found in 1665, making it one of the oldest Pubs/Hotels in Keswick, but that certainly does not mean the Food, Building or Local residents sitting inside the pub itself are outdated! The Pub has a fantastic Menu which is excellent value for money, with home cooked local food with a modern twist! Howe
ver the Cumbrian crowd favorite is the famous homemade "Cow Pie".  You will have to order it yourself to find out just how good this Pie is! Situated in the centre of Keswick it is perfectly located for those staying in the centre of town! If you want to know more information come to Keswick Climbing Wall and ask are very own Instructor Jack, who knows a thing or two about this great pub!
To find out all the craic about this Pub, check out their website:
http://georgehotelkeswick.co.uk/
The Coledale Inn – Braithwaite
A personal favorite of mine, The Coledale Inn is a cracking pub, serving up delicious food and excellent drinks throughout the year! Situated just above the charming Village of Braithwaite on top of a small hilltop well away from passing traffic. It is ideally situated for escaping the hustle and bustle of a busy summers day in Kes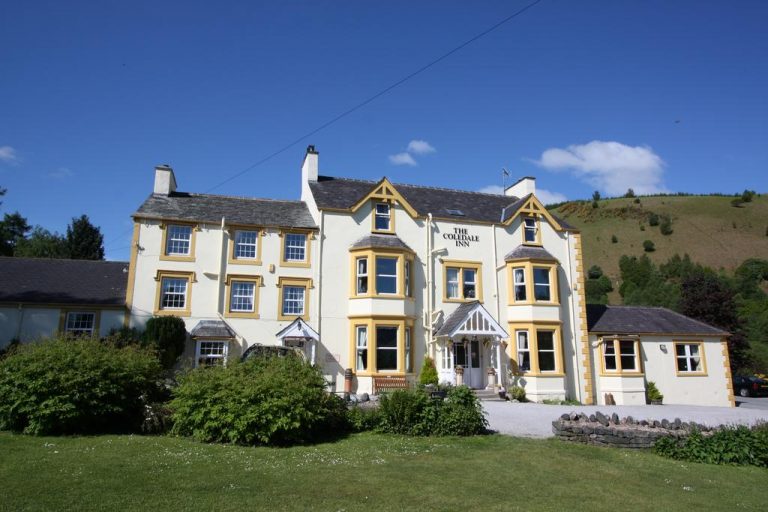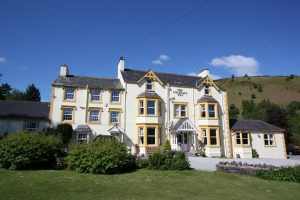 wick, with paths to the mountains directly outside the pub gardens. It is also only 10 minutes drive away from our sister centre, Newlands Adventure Centre, as well as only being 15 mins drive away from the Climbing Wall! Everything about this pub is very typically Cumbrian, from its local sourced food, to its choice of locally brewed beers and of course you cannot forget about the charming Lake District welcome from the staff! This pub will keep your four legged friends tale wagging all night!
Please check out there website for more information: